December 30, 2008
Atlanta Falcons running back Michael Turner was involved in a "domestic dispute" Monday night with the mother of his infant child, Gwinnett County Police Corp. David Schiralli said.
December 27, 2008
Former New England Patriots lineman and high school football coach Danny Villa surrendered to police in his native Arizona on Saturday, one day after a court in Massachusetts issued a warrant for his arrest on charges that he raped a child.
December 25, 2008
December 24, 2008
The NFL has become the NO FUN LEAGUE...
Pats' Welker fined $10,000 for Making a Snow Angel
December 24, 2008
New York Jets defensive end Shaun Ellis has been fined $10,000 by the NFL for throwing snow at fans following the team's loss at Seattle on Sunday.
Youtube Video


December 10, 2008
An arrest warrant has been issued for former New York Giants star Mark Ingram after he failed to report to federal prison to begin serving nearly eight years for bank fraud and money laundering.

December 8, 2008
Carolina reserve guard Jeremy Bridges was arrested for the second time in 16 months late Sunday night, less than 24 hours before the Panthers' biggest game of the season against NFC South rival Tampa Bay.

December 5, 2008
Vikings' Allen, Panthers' Peppers fined $10,000 each

December 5, 2008
New York Football Giants' Antonio Pierce met with the police Friday, nearly a week after Plaxico Burress was shot. There are accusations he participated in a coverup of the Burress incident.

December 5, 2008
Judge blocks NFL suspensions...The NFL "did not follow the rule of law"

December 5, 2008
New York Jets defensive end Shaun Ellis was arrested and charged with possession of marijuana, speeding and driving without insurance after being pulled over by police last weekend.

December 2, 2008
Three New Orleans Saints players – Deuce McAllister, Charles Grant and Will Smith have been suspended for four games by the NFL for violation of the league's policy on anabolic steroids and related substances.--the banned substance in question was not even listed as an ingredient to the Weight Loss supplement they took. Now my home team sAINTS have no chance of winning out the season. I project that even the winless Detroit Lions will beat the AINTs--they have a history of loosing to winless teams, remember St. Louis from last season. Recall the Washington Post article previously cited by this site, that regulation is lax in the supplement industry and just about every supplement Washington Post tested had one banned substance or another.

December 1, 2008
Plaxico Burress was formally charged Monday as predicted.

November 30, 2008
New York Football Giants receiver Plaxico Burress will be charged with criminal possession of a weapon after accidentally shooting himself in the right thigh.

November 18, 2008
Former cheerleader for the NFL's Tampa Bay Buccaneers arrested (Again)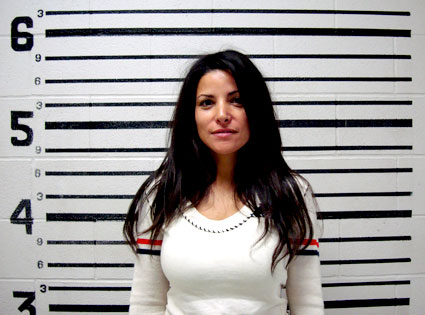 November 13, 2008
Giants OT Kareem McKenzie is charged with DUI.

November 11, 2008
Bengals DT Jason Shirley is convicted of DUI and hit and run.

October 28, 2008
A day before his scheduled meeting with Commissioner Roger Goodell, Chiefs running back Larry Johnson has been charged with simple assault arising out of allegations that he spit a drink in a woman's face at a Kansas City night club.

October 24, 2008
REPORT: Saints' running back Deuce McAllister and defensive end Will Smith test positive for banned substance

October 23, 2008
Steelers WR Santonio Holmes is charged with marijuana possession.

October 18, 2008
Bucs LB Matt McCoy is arrested for DUI.

October 13, 2008
Judge allows Jaguars receiver Matt Jones to enter a drug treatment program

October 13, 2008
Chiefs RB Larry Johnson is facing simple assault charges

October 10, 2008
An arrest warrant has been issued for former Denver Broncos wide receiver David Kircus after he failed to show up for a court hearing.

October 10, 2008
Former Denver Broncos running back Travis Henry is scheduled to appear in U.S. District Court in Billings on cocaine trafficking charges.

October 1, 2008
Former Denver Broncos running back Travis Henry has been arrested following an alleged cocaine deal.

September 30, 2008
Titans' Kearse has DUI hearing postponed until January 6

September 29, 2008
Prosecutors rest case against O.J. , co-defendant

September 29, 2008
Giants RB Danny Ware is arrested for being a pedestrian under the influence and a pedestrian in the roadway.

September 18, 2008
Detroit Lions linebacker Jordon Dizon has been sentenced to 24 hours of community service for driving while ability impaired.

September 16, 2008
Retired pro linebacker Keith Newman was arrested Monday morning and charged with five third-degree felony counts, according to police reports.

September 15, 2008
Atlanta Falcons veteran safety Lawyer Milloy was charged with driving under the influence early Monday in Gwinnett County and will be evaluated for admittance to the NFL's alcohol and substance abuse program.

September 12, 2008
Broncos wide receiver Brandon Marshall pleaded guilty Friday to a reduced charge in a drunken-driving case and avoided jail time.

September 12, 2008
Redskins' Kendall, Giants' Pierce fined $5K each

September 10, 2008
Colts defensive tackle Ed Johnson was arrested Wednesday morning for marijuana possession.

September 7, 2008
Arizona starting wide receiver Terrell Reese was suspended indefinitely following his arrest on a charge of driving while intoxicated.

September 5, 2008
An arrest warrant was issued Friday for Mark Ingram, a star on the New York Giants' 1991 Super Bowl-winning team who failed for a third time to appear in federal court for sentencing on a money laundering and bank fraud conviction.

September 5, 2008
OCHO CINCO IS BACK and the NFL can't stop him this time

August 30, 2008
Jacksonville Jaguars running back Fred Taylor was arrested early this morning and charged with disorderly conduct outside Club Cristal, a Miami Beach nightclub.

August 30, 2008
Panthers CB Ricardo Colclough is arrested for DUI.

August 21, 2008
Eugene Thurman Upshaw (1945-2008)DIES at 63...I have been very hard on Gene Upshaw and his "goon squad" of NFLPA thugs here at NFLCRIMES.COM over the years, but my sympathies go out to his friends and family....Rest in Peace Eugene Upshaw. Ravens Kicker Matt Stover finally got his wish. He tried to oust Upshaw as head of NFLPA, well low and behold, UPSHAW is now gone (may he rest in peace).
August 21, 2008
TEXANS' COOK ARRESTED ON MARIJUANA CHARGE

August 19, 2008
I haven't updated this site in a while because we have been a record 30 days without an NFL arrest, as evidenced by the counter at this site. I do believe this may be the longest period without an arrest since this site was launched, surpassing the 23 day record set in June of 2007. Also, Chris Henry has been re-signed by the Bengals yet again, despite his checkered past--though he must sit out the first four games. I stand by my revised pledge, if the PFT Counter gets to 60, I will cease updates to this blog!
July 25, 2008
Seahawks LB Lofa Tatupu discusses one-day jail stint

July 25, 2008
Jax Jags WR Matt Jones expresses remorse after being chaged with drug possession

July 21, 2008
Tampa Bay Buccaneers reserve safety Donte Nicholson was tasered twice and arrested during a weekend scuffle with police officers at the entrance of a St. Petersburg nightclub.

July 16, 2008
A jury convicted Denver Broncos cornerback Carl Paymah on Wednesday of DUI and careless driving.

July 15, 2008
New York Giants running back Ahmad Bradshaw still could face a suspension from the NFL after being released from jail for a probation violation.

July 14, 2008
Ex-Vikes DE Scott suspended after incident with child

July 14, 2008
Second assault trial for Henry ends with charge dropped

July 10, 2008
Jaguars WR Matt Jones is arrested for felony possession of a controlled substance.

July 9, 2008
Pats RB Kevin Faulk pleads no contest to marijuana possession.

July 7, 2008
Seahawks LB Lofa Tatupu pleads guilty to DUI.

June 30, 2008
Pats DB Willie Andrews is arrested for assault with a dangerous weapon, a felony, and unlawful possession of a firearm.

June 27, 2008
Cardinals OL Brandon Keith pleads guilty to misdemeanor rioting and interference with official acts.

June 24, 2008
It is reported for the first time that Broncos WR Brandon Marshall was arrested for misdemeanor domestic battery on March 6.

June 24, 2008
It is reported for the first time that LB Jordon Dizon was arrested six days before the draft for suspicion of DUI; he was drafted by the Lions six days later.

June 24, 2008
Suspect arrested in attack on Oakland Raiders' Walker, suspected of felonies

June 23, 2008
Former Chicago Bears running back Cedric Benson was ordered Monday to install an ignition-lock breath tester in his car after he was charged with drunken driving.

June 23, 2008
Panthers receiver Dwayne Jarrett pleads guilty to driving while impaired.

June 22, 2008
Titans defensive end Jevon Kearse is arrested for DUI.

June 21, 2008
Giants defensive back Geoffrey Pope is detained for questioning regarding potential felony battery charges. (On June 23, Pope was cleared of all charges.)

June 18, 2008
Oakland Raiders wide receiver Javon Walker told a Web site Tuesday that he was knocked unconscious at gunpoint in his Bellagio hotel room and abducted.

June 18, 2008

Cardinals RB J.J. Arrington is arrested for disorderly conduct.

June 17, 2008
Seahawks linebacker Lofa Tatupu entered a plea of not guilty Tuesday to charges of driving under the influence of alcohol.

June 16, 2008
Seahawks' Bernard could have domestic violence charge erased

June 15, 2008
Falcons S Daren Stone is arrested for DUI.

June 13, 2008
Miami Dolphins' Marcus Vick charged with drunken driving, eluding arrest

June 13, 2008
Titans WR Brandon Jones is arrested for misdemeanor possession of an unlawful firearm

June 9, 2008
Bears release Benson following 2nd arrest

June 9, 2008
Former Raiders/Oilers/Saints star quarterback Ken Stabler was arrested and charged with reckless driving and driving under the influence of alcohol.

June 7, 2008
Patriots: Kaczur to remain on team despite arrest

June 6, 2008
Jaguars safety Gerald Sensabaugh apologized Friday for his second arrest in 14 months and contradicted a police report that said he was "doing wheelies" on a motorcycle.

June 5, 2008
Former clerk gets 6-month term for stadium attack hoax

June 4, 2008
Tampa Bay Buccaneers tight end Jerramy Stevens was suspended without pay for the first two games of the season and fined an additional game check Wednesday for violating the NFL's substance abuse policy.

June 2, 2008
Tatupu back with Seahawks after DUI arrest

May 28, 2008
Former Denver Broncos punter Todd Sauerbrun pleaded guilty Wednesday to disturbing the peace in a confrontation with a taxi driver last December and was sentenced to perform 24 hours of community service.

May 27, 2008
The San Francisco 49ers waived undrafted free agent Ezra Butler on Tuesday after he was arrested over the weekend on misdemeanor charges of driving under the influence and possession of marijuana.

May 23, 2008
The Las Vegas district attorney says Pacman Jones' $20,000 gambling debt to a casino has been paid off, allowing the DA to recall an arrest warrant for the suspended NFL player.

May 20, 2008
Saints defensive end Charles Grant was stabbed in the neck during a bar fight in February. And that's not the worst of it.

May 17, 2008
Former Minnesota Vikings defensive standout Carl Eller, who faces assault and drunken driving charges from an incident a month ago, was cited earlier this week for failure to have the correct license plates on his motorcycle.

May 14, 2008
The Cleveland Browns have terminated the contract of veteran cornerback Kenny Wright, the team announced Wednesday. The move comes after Wright had a recent off-the-field incident that could affect his playing status for the 2008 season.

May 13, 2008
Seattle Seahawks Pro Bowl linebacker Lofa Tatupu was arrested early Saturday morning for investigation of drunken driving.

May 7, 2008
Chicago Bears' RB Cedric Benson was pepper-sprayed and arrested Saturday night

May 6, 2008
Former Cincinnati Bengals wide receiver Chris Henry will be released from court-ordered electronic monitoring and house arrest so he can try out for another NFL team.

May 4, 2008
Falcons LB Michael Boley is arrested and charged with misdemeanor battery.

May 1, 2008
Ex-Vikes DE Scott arrested on suspicion of assault of child

April 26, 2008
NFL DRAFT INCLUDES THUGS...


4/27/08: The Cardinals draft OT Brandon Keith with three pending misdemeanors – disorderly conduct, rioting, and interfering with officials.


4/27/08: The Titans draft LB Stanford Keglar with three pending misdemeanors — battery, false informing, and disorderly conduct.


4/27/08: The Eagles draft CB Jack Ikegwuonu with a pending misdemeanor (criminal trespass) and a pending felony (residential burglary).


4/27/08: The Bengals draft DT Jason Shirley despite three pending misdemeanors — hit-and-run, driving under the influence, and driving with a blood-alcohol content of .08 percent or higher.

April 26, 2008
Detroit Lions safety Kalvin Pearson was arrested Saturday in southwest Florida on domestic violence charges.

April 21, 2008
Seahawks DT Rocky Bernard is arrested for investigation of domestic violence assault, a misdemeanor.

April 20, 2008

Colts RB Kenton Keith is arrested on four misdemeanors — public intoxication, disorderly conduct, resisting law enforcement, and contributing to the delinquency of a minor.

April 19, 2008
SAN DIEGO PAPER RELEASES NEW ARREST LIST TODAY!

April 19, 2008
In the year since NFL's player-conduct policy took effect, the league has taken a tougher stance with players with criminal issues . . . or, at least, most of them

April 15, 2008
DUI charge filed against Buccaneers LB Cato June dropped

April 11, 2008
Dolphins FB Regan Mauia is arrested and charged with misdemeanor battery.

April 10, 2008
Former Minnesota Vikings great Carl Eller was charged Thursday with two felonies after a scuffle with police officers trying to arrest him for possible drunken driving.

April 9, 2008
Eagles DT Mike Patterson is found guilty of careless driving

April 7, 2008
Wilson released by Bengals, RB was previously arrested

April 5, 2008
Cleveland Browns defensive back Kenny Wright was released from jail after posting $5,000 bail following a foot chase and arrest for a disturbance outside a police station.

April 4, 2008
Former Bengal Chris Henry was released from jail Friday, spending an extra night there because no one was available to provide a court-ordered monitoring device.

April 4, 2008
Cleveland Browns defensive back Kenny Wright was arrested Thursday after police said he led them on a quarter-mile foot chase that began in the parking lot of the police station.

April 3, 2008
The Cincinnati Bengals have released wide receiver Chris Henry after his fifth arrest since 2005.

April 2, 2008
An alleged victim in the O.J. Simpson armed robbery case has been arrested on a parole violation after a witness in the case accused him of harassment.

April 1, 2008
Bengals WR Chris Henry adds to legal woes with fine for driving with expired plates

March 28, 2008
Giants LB Antonio Pierce pleads guilty to animal neglect.

March 19, 2008
Steelers WR Cedrick Wilson is arrested for simple assault, harassment, and disorderly conduct.

March 17, 2008
Attorney for Texans WR Jones says DWI charge won't hold up

March 17, 2008
Vikings lineman McKinnie pleads not guilty to brawl charges

March 12, 2008
Carolina Panthers receiver Dwayne Jarrett arrested with a blood-alcohol level of .12

March 11, 2008
Titans assistant coach Chuck Cecil pleads guilty to reckless driving.

March 11, 2008
Panthers WR Dwayne Jarrett is arrested for misdemeanor driving while impaired.

March 8, 2008
Steelers LB James Harrison is http://www.profootballtalk.com/2008/03/03/bronco-busted-for-cocaine/arrested for misdemeanor assault and criminal mischief.

March 1, 2008
Broncos DT Marcus Thomas is arrested for felony cocaine possession.

February 29, 2008
Kevin Faulk's drug test comes back clean

February 23, 2008
Minnesota Vikings coach Brad Childress said he hasn't determined yet whether he will punish left tackle Bryant McKinnie, who was charged with a felony following a confrontation at a Miami night club over the weekend.

February 24, 2008
Minnesota Vikings tackle Bryant McKinnie was arrested for aggravated battery after a street brawl outside a nightclub early Sunday.

February 23, 2008
Philadelphia Eagles defensive tackle Mike Patterson is facing drug possession charges after being arrested in the southern New Jersey town where he lives.

February 22, 2008
Cheating can get you a perfect regular season, but it can't win you the superbowl if
you are the Pats. Yet more evidence and charges emerge of CHEATING Patriots, those CHEATERS!!!!

February 21, 2008
Former Denver Broncos wide receiver Vance Johnson has surrendered to Rifle police after allegedly failing to appear for a court hearing in a bad check case.

February 6, 2008
Super Bowl massacre averted at last minute

February 6, 2008
Browns' Bodden acquitted on charges stemming from confrontation

February 5, 2008
Patriots' Willie Andrews charged with marijuana possession

February 3, 2008
Nine people were arrested in Scottsdale on suspicion of selling forged Super Bowl tickets for thousands of dollars.

February 3, 2008
New Orleans defensive end Charles Grant was stabbed in the neck, and a pregnant woman was shot and killed early Sunday in an altercation at a nightclub in southwest Georgia.

February 1, 2008
Good Golly Bejeepers...there is a Superbowl to play....and NYG are getting in trouble in Arizona: New York Giants backup defensive end Adrian Awasom was arrested on suspicion of drunken driving by Arizona state police early Friday.

January 29, 2008
Former Bears/Cowboys/Lions player Alonzo Spellman was arrested Tuesday after Tulsa police fired pepper-spray pellets into his car following a nearly 20-minute chase.

January 28, 2008
A temporary restraining order against Randy Moss was extended until March 28 while the New England Patriots wide receiver was in Arizona on Monday preparing for the Super Bowl.

January 18, 2008
Prosecutors drop case against Broncos TE Graham

January 18, 2008
Bay Area Laboratory Cooperative (BALCO) and the NFL: Dana Stubblefield, a three-time Pro Bowl selection as a defensive lineman in the National Football League, pleaded guilty in federal court Friday afternoon with making false statements to a federal agent about performance-enhancing drugs.

January 17, 2008
A Harris County grand jury has declined to indict Houston Texans offensive lineman Chester Pitts, who was arrested in November on a felony charge of evading arrest in a motor vehicle.

January 15, 2008
A woman is seeking an arrest warrant against suspended Tennessee Titans cornerback Adam "Pacman" Jones, claiming he punched her at an Atlanta strip club.

January 15, 2008
Jacksonville Jaguars defensive end Brent Hawkins was arrested and charged with drunken driving after he was stopped for speeding on his way home from a night out.

January 11, 2008
Denver Broncos tight end Daniel Graham was arrested on a charge of harassing his ex-girlfriend.

January 3, 2008
Texas woman draws penalty in NFL ticket scam

January 1, 2008
Ravens safety Gerome Sapp is charged with misdemeanor assault.